1972 GS Convertible Chassis
I have split up the body and chassis as they were getting to be rather long winded (sorry!). This page will obviously cover the buildup of the frame and chassis. Have not really started yet but once the body comes off the frame this page will get busy. For now I am just collecting and restoring various pieces that will go onto the frame.
---
"They don't build em like they used to."LOL Here is a pic of some welding wire leftover after the factory welded the frame together. It survived like that for 30 years (!!) hidden under the steering linkage and engine. I will take the liberty of removing it before the frame gets coated. You have to remember these were mass produced cars.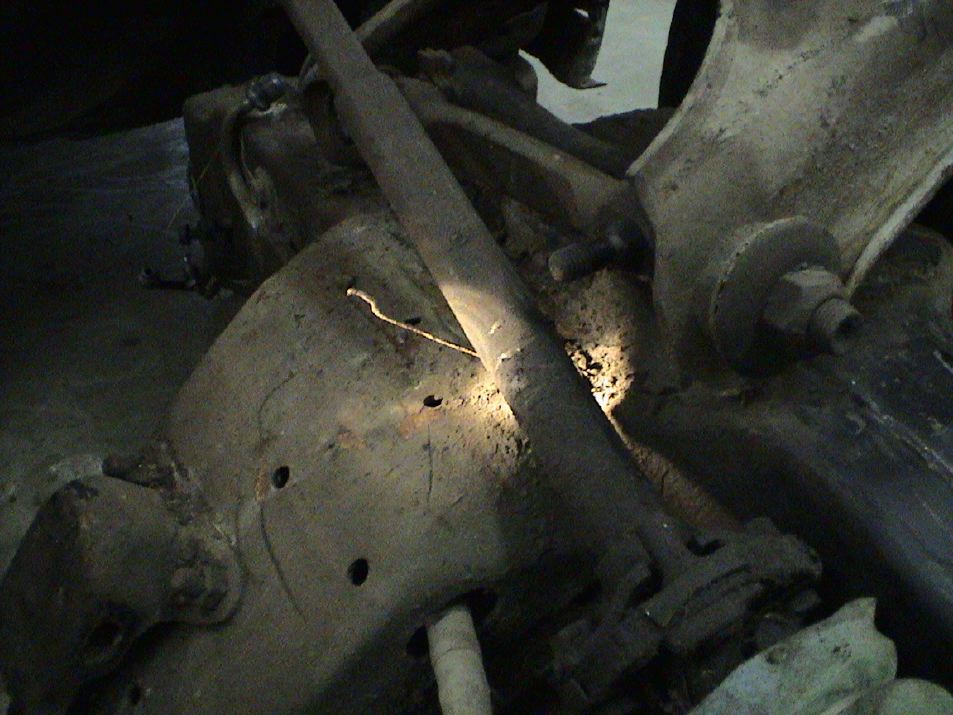 Oct 22, 2002
---
Spent seven hours today sandblasting chassis parts (spindles, calipers, backing plates, fuel/brake/emission clips, brackets, etc) in preparation for painting, powdercoating, and plating of the frame and all the parts that attach to it. Lots of work.


Nov 12, 2002
---
Lots of small items to take care of in preparation for the body coming off the frame. The frame has been completely stripped except for basic parts needed to hold the wheels on (still have to transport the car to the shop remember), and the fuel and emission lines that go up and over the rear part of the frame. No way to remove those until the body is off. Lots of parts have been off, cleaned up, then put back on temporarily to get the chassis to the shop. Once there, body comes off, frame will be totally disassembled, sandblasted and then black oxide coated (powdercoated). I will bring it home and assemble using all the new/rebuilt/replated parts and take back to the shop where it will be reattached to the basic body shell. Some larger items like the rear diff will be addressed later as time/money is a issue now. The priority is to address items that are hard to access once the body and frame are attached again.

Once reassembled, the body and frame will not be separated again. Painting of the underbody will be completed, and the whole thing will be carefully masked before final painting is done. New fuel and brake lines have been ordered from inline tube, as the originals were found to have some chaffing and/or pitting.

Here is an example of some of the details that need to be addressed...these are the fuel evap line clips, one still original and the other has been blasted and recoated. It takes a lot of time and work to get all these parts properly done and ready to go.

Things get fun at this point again as most of the grime and crud is gone, components are starting to come together and things start looking good....
Dec 5, 2002
---
Getting close to pulling the body off. Should happen just after Christmas 2003. While the bottom of the body is being completed, I will try to get the frame done. Here are a few of the parts ready to go:


Frame clips and brackets. Note that I have done more than I need and I will keep those for the eventual frame off on the Stage 1.



Brake, fuel and emission lines. Brake and fuel are new, others have been cleaned up and polished. I replaced the brake and fuel lines as they tend to corrode from the inside out and are mission critical. Ever have a brake line fail??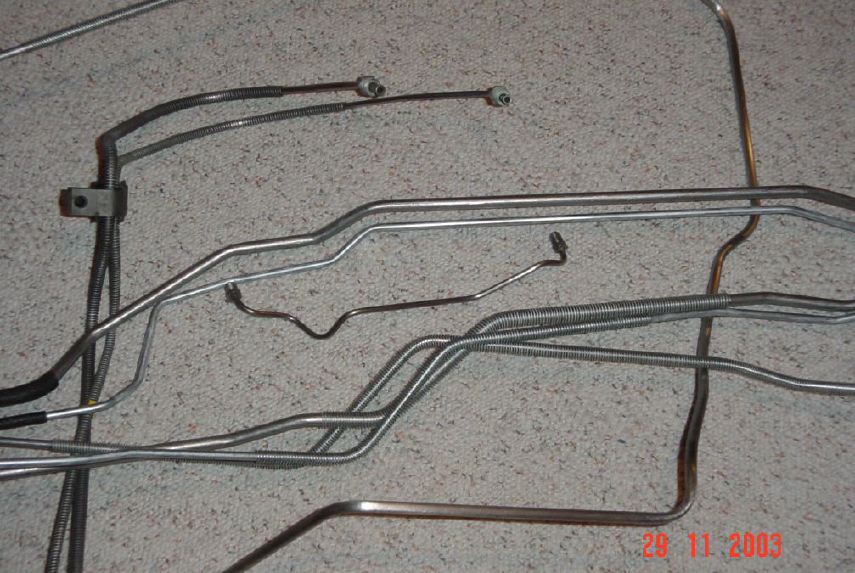 455 engine mount frame pads.
Nov 29, 2003
---
Frame is now home (see body page for separation picture). It is in very good shape overall, some minor pitting but not nearly as bad as I expected. I have found the VIN stamped into the frame rail on the LH side, and the p/n and date code on the aft rear left rail, but have not found the frame code as yet. Hidden by undercoating probably. Next step is complete disassembly, then I will take it to the sandblasters and blast it to bare metal. It will be powdercoated, my only concern at this point is if the VIN and p/n will show after all the work is done. I sure hope so, it will be important not to dwell too long on those spots at the sandblasters....

Note how massive the frame is with the extra sections the factory added for convertibles. Basically it is a triangular piece that continues down from the top at the same angle as the hardtop frame, and is flat across the bottom. It has a recessed area on each side for the tranny crossmember to sit in. Hard to see in this picture, with all the rust, undercoating, primer and dirt but better shots will be coming.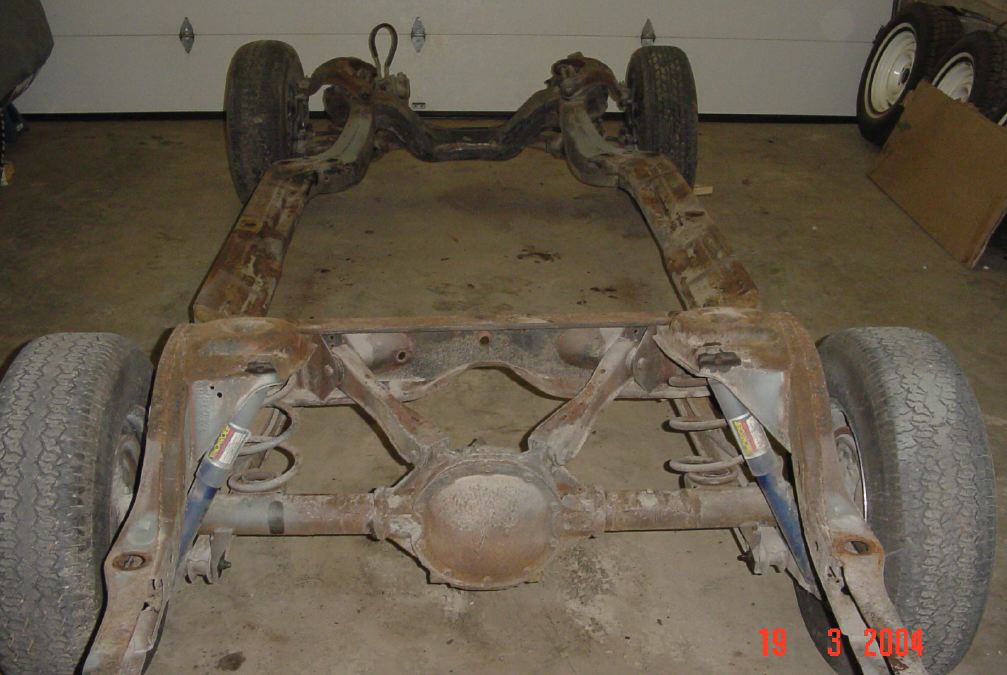 March 19, 2004
---
Here is the frame is completely disassembled and ready to sandblast. I measured it against the frame specs in my 72 chassis manual, and everything looks fairly square, but I noticed several of the dimensions were off compared to the manual, and no way 12" difference could be a measuring error.
You just can't take a car much further apart than this!
March 19, 2004
---
You know, to be totally honest, I have to tell you that after three years of this project, I am getting tired. While its great that the frame is home and we will start assembling the car fairly soon, it has been a long haul already. Spent some time today pushing out the control arm bushings and moving stuff around, one of the bushings was ugly, my arms hurt and this project has gone over double the original budget and still has a long way to go. Sometimes I wonder why I do this. Hopefully once the frame is powdercoated and I can start putting some new parts onto it, the interest level will come back. That is a ways away yet, still have to redo some factory welds (pretty rough), trailer the frame to the sandblasters, trailer it to the powdercoaters, trailer it home, set up some sort of protection so it doesn't get scratched, reassemble a rolling chassis, and then protect it somehow so once back at the bodyshop it doesn't get overspray, sanding debri, etc into all the cracks and crannies.

Also wanted to have engine and tranny mounted before it went back for the body to be put on the frame, but the engine is not completed yet and the tranny still has to be rebuilt. Ideally, we would paint the car body on the rotisserie and lower it onto the completed chassis, but that is not possible as I still have to drill holes in the fenders (replaced) and decklid (replaced) for the emblems, test fit and drill holes for the mirrors, trim, etc. You want that done before paint goes on. Still trying to find decent sport mirror gaskets as the repros are crap. Also, money is getting tight so will probably bring it all home while still in primer so I can do all this and save for the paint job. It would be best if the jambs were sprayed and the doors hung before it came home, that would help with the interior fitting and I really don't want to have to R&R the doors again, or pay anyone else to do it. Thus the need to protect the chassis. But if the jambs get sprayed then I need to order the paint and it really should be used as soon as possible after being opened. There is still the matter of the body mounts, hopefully that will not cause us any more issues.

So if you are contemplating doing a frame off on your car, think again real long and hard about it. It is an incredible amount of work, and one huge mechanical, financial and logistic pain in the ass! I am not sure I would ever do it again. Luckily, I have lots of very helpful and supportive friends who take just enough of the edge off the craziness that I can keep going on this thing.....it has become something that needs to be done now, and much of the fun is not there anymore. Just some thoughts for anyone who is thinking of doing this and for anyone who ever looks at a nicely restored car at a show.

March 21, 2004
---
Finished removing all the bushings from the rear control arms today. There are several ways to do this, but the method I prefer takes a little longer but uses less effort overall. The bushings are pressed in, and the arms aren't that thick or reinforced in some areas, so you need to make sure you put something in between the arm rails to support them or you may bend or crush the arm. Lots of people use sockets, but I prefer wood....if you drill a hole in some solid wood the correct thickness, then cut it in half, you can put this all around the bushing to support the arm and it won't mark the arm up like sockets sometimes do as they dig in.

Part of the retaining force is the rubber pushing out on the bushing outer sleeve. You can drill it out, or burn it with a torch (smelly) to relieve the pressure but I like to use a small deep socket to push out the center steel part...make sure the socket is slightly smaller than the sleeve, and spray it with lube so you don't get it stuck. Once you push that out, you can use a larger socket to push the actual rubber insert out...and you'll find this is pretty easy as removing the center sleeve relieves a lot of pressure on the rubber. Sometimes you can just push the whole assembly out with a larger socket but I find with 30+ year old arms , rust will pretty much make sure you won't, thus the extra steps to help.

Once the rubber is out I simply use a hammer and punch to beat the outer sleeve inward near the edges which reduces its overall diameter, you can also work it outward and the sleeve will usually come out of the arm with a little effort. If you have an air hammer you are further ahead and can use that to work the crush sleeve inward and push it out. I will leave tool selection and method up to you, but a good vise and an air chisel will make short work of these. Hammer and punch works well too, takes some effort though, and don't hit your hand!! Took me 2 hours to do both rear lower arms and both rear upper arms.

Naturally, if you have access to a press, that is the best way to go. Just make sure the arms are supported properly.

March 22/2004
---
A small tidbit for the convertible guys out there, here are the frame P/N's and codes for the 68 through 72 GS and Skylark frames. Thanks to Duane H for this info. My 1976 GM parts book shows the 6263668 frame for 68 up, so they must interchange but its a great way to check to see if your frame is "correct" for your year. The P/N should be located between the LH rear wheel and the bumper area, stamped onto the outside frame rail along with the frame code and date of manufacture. Keep in mind this was GM and some part numbers over ran their specified usage, changes were sometimes made before the cars saw actual production, so let me know what you find on your car and we can update if required.
1968-1972 Buick GS and Skylark convertible frame information

| | | |
| --- | --- | --- |
| YEAR | FRAME PART NUMBER | FRAME CODE |
| 1968 early | 3908665 | BD |
| 1968 late | 3908665 | CF |
| 1969 | 3943347 | XL |
| 1970 | 3960735 | XV |
| 1971 early | 3990568 | CS |
| 1971 late | 3992389 | CS |
| 1972 | 6263668 | CS |
March 25, 2004
---
I have taken some liberty with the frame as far as cleaning it up is concerned. Since I will be sandlbasting and powdercoating this frame, which represents a large investment in time and money, I want it to look good when done (obviously). Note that I did not remove the welds or grind them out, only the high spots or sharp edges, and the remaining metal is rounded off and shaped so once sandblasted it will all look like natural welds. I also had to touch up a few welds where the welder missed the bracket or blew through the part!

Look at the three blobs of weld in this picture. They add nothing to the strength of the welded area and look really bad. Also note the splatter and the roughness of the remaining weld. This is the drivers rear wheelwell area, with the frame upside down (note spring perch).
This is how it looks after removal of the excess material. I use a hammer and sharp chisel to get rid of the splatter balls, they usually just pop right off. Then I grind down the blobs with a die grinder, and finish it up with a file which allows finer control of the texture and blending, leaves no grooves and makes rounding off the edges easier. Once sandblasted all the touchups will be invisible. You can still see the wavy edge where the two parts of the frame overlap each other. The whole frame took about 10-12 hours to do, it was rough (Keep in mind I am also puttering around). Not a nice job, you get covered in metal filings and dust, make sure you wear safety equipment.
Some might argue that this is not original, and while I agree to a certain extent, there are advantages to doing this. Its mostly cosmetic, of course, but removing the sharp edges makes working on the car easier, and I probably took 2 pounds of metal off the frame as well! One of the sharp edges was inside the control arm attach bracket where the bushing rode, and it was torn up really bad. Hardly anyone will see this other than me anyway, and quite frankly original is nice but if original is crappy then who wants it, right? If panels were aligned or painted strictly to original specs, it would be considered a bad job. You almost have to make it better than new just to be acceptable...the idea is to keep it looking original but make it better than it was.
March 27, 2004
---
Frame has been sandblasted and powdercoated. Sandblasting it was not that much fun, wearing a heavy and hot mask in the sun for over 2 hours while you try and get all the crud off the frame was quite uncomfortable. We did manage to clean the entire frame, inside and out, and then it was trailered to the powdercoating shop. I spent the rest the day getting sand out of my teeth!!
One of the reasons I like powdercoating is how its applied. Since it uses static electricity to attach the powder, it can be sprayed into tight and hidden spots that could never be done with wet spray paint. The excess simply falls out before being baked. The frame was coated inside and out and I am very impressed with how it looks. Slightly more gloss than I remember the color having, but its a very rich, deep black. The gloss brings out some pitting in the aft area, but overall it looks excellent. It is a frame after all, and its 100 times better than the factory ever did. The P/N and date code stamped into the frame came out very well, the VIN is still hard to read but is there.
Here is the area that was touched up. The sandblasting removed all traces of grinding marks and the coating hides whatever was left. Can't tell I was ever there, just looks like smooth weld. The frame looks almost gray in this pic, that is the flash reflecting off the dust from the trip home.
April 6, 2004
---
Installing the rear control arm bushings. As you can see, I take the high tech approach...aluminum conduit part to receive bushing, wood to prevent crushing arm, steel ring to push bushing in and a big vise!!!
The local hardware store will have everything you need. Electrical conduit or plumbing supplies can be used as pushers and receivers for removing and installing. The wood is a hard 2 x 4 that had a 2.0" hole cut in it, then cut in half through center of hole..this way the wood wraps around where the bushing will pass through giving more support...its also fairly soft so won't scratch the powdercoating.
Bushing installed. I had the bushings in the freezer overnight, and immediately before pushing them in, I would hold the arm in front of the garage furnace to warm it up slightly. I also used a little anti-seize on the inside of the arm to help. They went in very easy despite the powercoating and the paint on the bushing. Stock bushings have a bare metal surface on them which rusts right away, a little paint in the center part will prevent the rust from starting (try not to spray where the bushing will sit in the arm). You can see I need still need to clean the anti-seize off.
Completed set ready for installation. I chose to use stock rubber type bushings as this car will be a cruiser more than anything else, plus I don't want to be bothered with squeaks or other issues once car is on the road. I can always change out arms later if desired. Note the powdercoat shop wrapping is left on majority of arm to protect during the bushing install, and arm installation.

This is the fun part, things start coming together and the number of parts in the house starts to drop!!

April 8, 2004
---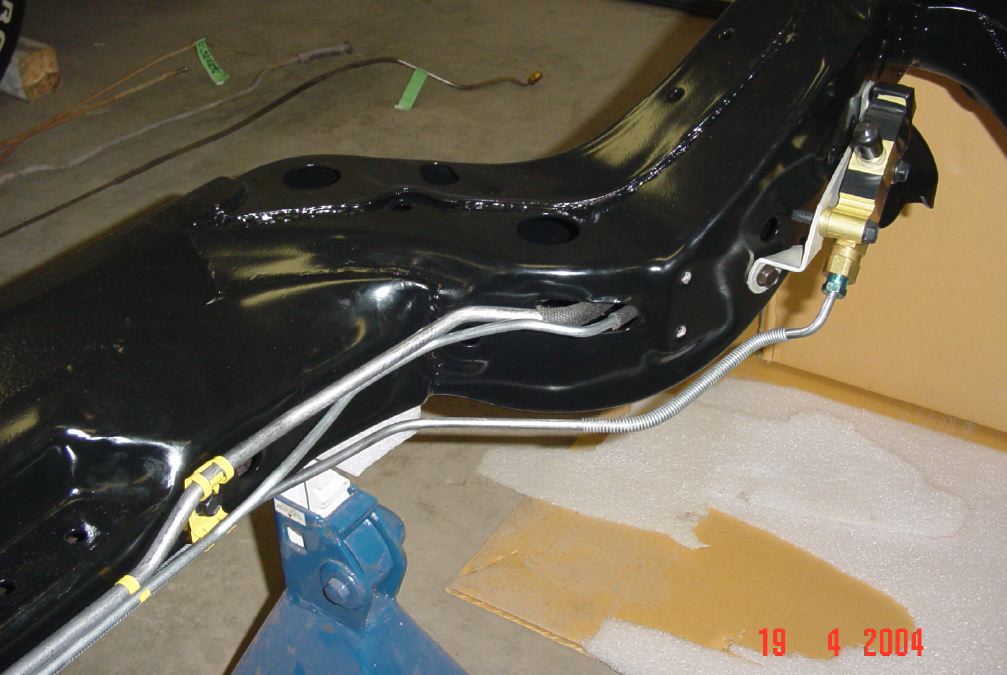 Fuel and main brake lines are installed. The lines are from Inline Tube and fit ok, but needed some tweaking here and there. Also note the proportioning valve is an aftermarket replacement part. I looked at rebuilding the original but the price was crazy to source out and nobody stocks parts to rebuild it myself. I won't sacrifice safety for originality. I did keep the original though for possible future use. Make sure with any line install that the lines do not touch each other and do not contact the frame. The reason the 1/4" return line looks a little crazy in the corner is that it tucks under the main feed line to make room for the emergency brake front cable (not installed yet) which comes out from the frame right below the fuel lines. Note old lines in the background, don't throw anything out until you are done, they are an excellent reference.
April 19, 2004
---
Front control arms and springs installed. Bolts are new GM (use correct hardware for safety!). One shim at each location until I can find the proper shims and then will supply those for alignment. Spindles are painted. Brake hose bracket is replated. Flags are for uncompleted work, the ball joint nuts need final torque and safety, springs need clips removed. You can see all the lines are capped to keep crap out. Pretty soon I will be able to put the front wheels on.....I will feel better once chassis is back on its wheels....

April 28, 2004
---
Rear diff has been rebuilt with new posi, gears, bearings and seals, painted, and installed. If you mount the drums on backwards, you can set them on wood blocks and rotate entire rear end by turning pinion (it is a posi, open diffs wouldn't work so well). With supports of the right height for the pinion, this makes painting the diff very easy as you can rotate it into any position, and allows painting both sides of the backing plates at once (without taking axles out anyway). You can also use this to "drive" the diff under the chassis by turning the pinion, it just rolls along on the drums. Very easy way to move such a heavy assembly by yourself. Obviously you do this before finishing the drums!
Bolts for cover are new, exact copies of originals but are gold cad plated. Thats ok with me, adds some visuals under the car, but may not be 100% correct. Springs are powdercoated. Spring insulators, vent, arm bolts are new GM.

May 10, 2004
---
Rear suspension is basically complete now except for swaybar. Ready for wheels and tires (if I had them!). Shocks are Monroe Sensatrac, we'll see how they work, supposed to be very nice shocks. Came in black which isn't great (gray would have been better), but not much you can do (I suppose a person could paint them, maybe later).
I might have to put some new tires on my old 15 x 7's and use them for now, just can't put the old worn out and mismatched tires onto this chassis. Can always change out the wheels later when money allows.
May 19, 2004
---
I couldn't take it anymore!! I went and bought tires for the car, even though I have not ordered my good rims yet. These temp rims will do fine until I can afford the extra money for the good ones (6 months). The good rims would take six weeks to arrive, and the chassis needs to be finished asap. The rear suspension is now done except for final torque of the arms, which must be done at final ride height.
As for the tires themselves, these Dayton (aka Bridgestone) tires have large white letters (like original equipment Wide Oval tires), decent tread design, come in 235/60R15 and larger sizes and just happen to be inexpensive. I will let you know what I think of them someday when I actually drive the car. Online reviews were positive. They are speed rated at 112mph, and I don't plan on ever cruising at that speed.

May 27, 2004
---
Front brakes are on. Note original rotors with the wear groove. Steering box and linkage, front swaybar and shocks are all that remain for the front suspension. Bottom of car is now in epoxy primer and will be painted this coming week, so the timing is working out nicely.

May 29, 2004
---
Some major progress lately. Steering box has been resealed, detailed and installed. Setting up overcenter preload was interesting. Box has some wear and may be replaced later if it affects steering...right now money is the deciding factor in keeping the old box in. It is the N41 variable ratio box. Centerlink and tie rod ends are in. Finding new 7/16-20 castellated nuts for the linkage took a long time, odd size so it seems. Eyeball alignment for now, not much to worry about about until car is driving.
Back on its wheels! Compare to March 19 picture this page. What a huge difference! There are a few details like front arm and rear diff bumpers, and front swaybar (car should be at normal ride height, no way to install swaybar bushings loosely, they clamp up tight as soon as installed so will have to wait until later). This chassis is completed as far as this page is concerned...

June 6, 2004
---

OK, change of plans!! Decided with engine and tranny so close to being done to wait until they are installed before dropping body on, so there will be a few more updates yet. Tranny crossmember is now mounted, shocks were removed and repainted gray to closer simulate the originals (I thought black was ok, but changed my mind). Tranny mount and engine mounts are new with markings reapplied. Decided to replace original production markings where I could document them as well.
Just waiting for heads and tranny, then can assemble and install.
July 6, 2004
---
Engine is now assembled and painted, tranny attached, and installed into car along with driveshaft. Color coded driveshaft stripes applied. Chassis assembly manuals show a small distance between the stripes and you see lots of restored cars with 6"or less between the markings... but I have seen the stripes on 4 different original cars, and they were all spaced out way more than that. My understanding was one guy balanced the driveshaft at the factory, and stood there with a brush in each hand as it turned to mark it. I did the same, but was a little neater. This is an original 455 auto driveshaft, and I put the markings exactly where they were originally before polishing. Lots of detailing to be done yet, but this pretty much concludes the chassis section.
Concluded Aug 26, 2004
---
---
---