Here are a few original factory photographs and some literature of the 70-72 Buick Gran Sport.

1970 GS 455 Stage 1


1970 GS Stage 1 (same car as above?) being tested for Motor Trend (Jan 1970 issue, 0-60mph in 5.5 seconds, 1/4 mile in 13.4 seconds @105.3mph)
1970 GS two page ad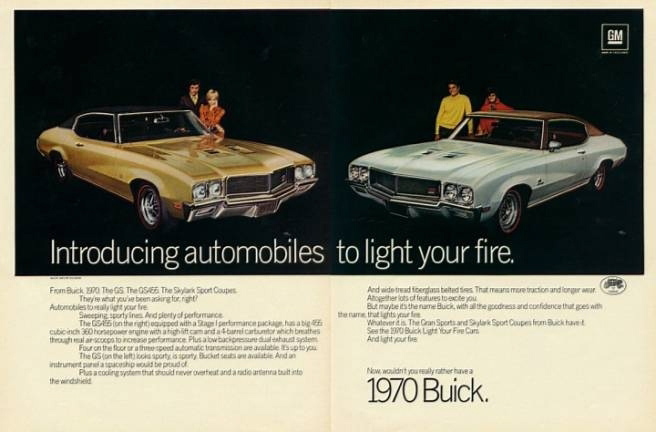 1971 GS Stage 1 picture from 1971 Buick sales brochure



1971 GS 455 Stage 1 GM photo


1971 GS 455 GM photo


1971 GS Convertible picture, also taken right from the 1971 Buick Brochure. Note that is shows bucket seats installed, yet bucket seats were not available on GS convertibles in 71 and 72!! A couple convertibles did slip through as special SCO orders though.


1972 GS Review by Hot Rod Magazine, September 1971 issue (check out that price, in 2011 dollars that would be just over 25,000.00)



1972 GS 350 (note hood tach on this car, also what appear to be incorrect (ie 1970 style) centercaps). GM photo (cropped).




Sample of options shown in the 1971 Buick Brochure:




Here is a copy of an original Revision 1 Buick GS car order form from 1972, thanks to Stanley F. for providing me with this. On the backside are suggested color combos and engine information. I laughed when I saw the saddle interior was available but was not a recommended color combination for my convertible. No Kidding!!






Take a real close look at some of the car photographs and it is quite obvious that fit and finish were not the most important items on the list and nobody cared, and the tooling technology of the time was not that great. Thats why most cars you see at car shows have been put together much too carefully! Also note that all the cars on this page have vinyl roofs, it was considered stylish. It was a very curious period of car production where the models spoke for themselves and there were more interesting things to do with the vehicles than comparing door gaps and cupholders.